Weight Loss Surgery Patient Testimonies
Whether you are considering weight loss surgery for the first time, or have already had a weight loss surgery and are thinking about a revision or conversion to another procedure, Riverside Surgical and Weight Loss Center is here to help you through this exciting journey and transformation.
Robyn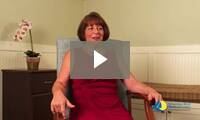 At 229 pounds, Robyn was shutting herself off from her friends and family. She neglected her garden because it took too much energy and she didn't want her neighbors to see how big she was. "Food was more my family than my family was," Robyn says. At a routine doctor visit, tests showed that Robyn was borderline diabetic and her blood pressure was high. When she looked for weight-loss surgery information on the Internet, she was drawn to the stories of real people who said, "This works. Why aren't you doing it?" After her surgery, Robyn was surprised at how good she felt, and how little pampering she needed. "The surgery has given my life back to me," Robyn says.
Ken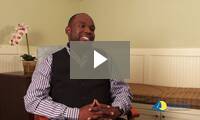 Ken was limited in his job as a corrections officer by his weight. At 334 pounds, it was difficult for him to make rounds, and he couldn't be on the response team because he wasn't able to run very far. Ken disliked being placed in positions where he wouldn't be a liability. He knew that he had to make a change to advance in his career. Ken was unable to travel because of his fear of not fitting into an airplane seat. He had once enjoyed playing basketball, but at age 25 he found himself sitting on sidelines, eating a bag of chips while watching his friends and family play. When his doctor asked him if he wanted to live past the age of 40, Ken's eyes were opened and he started looking into options. After weight-loss surgery, Ken participates in a basketball league and has traveled comfortably to Atlanta in the middle seat on the plane.
Justin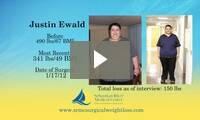 Justin started gaining weight after his parents got divorced. He had high blood pressure and sleep apnea, and his friends and family were worried about him. The difficulty of doing the simplest things was depressing. One day, eating in a restaurant with his grandmother, Justin was taken aback by a man rudely staring at him. He knew he had to do something about his weight and, after attending a surgical weight-loss seminar, he knew this was what he wanted to do. His grandmother even offered to pay for the surgery. After eight months and 150 pounds lost, Justin can sleep through the night and doesn't want to stay in the house all day. "I've regained life," he says. "Now I just want to run and be free."
Video Testimonies
---
"Before and after photos of my weight loss. February 22, 2011 was the beginnng of my new life and these are the pictures of my journey to reaching my goal weight!"
---
"Gastric Sleeve(VSG) Blog #25: One Year Later!! It's been over a year since my surgery and my life has changed drastically! I now have a new engery for LIFE!"
---
"5 Months and Still Loving My Sleeve! This is a five month update/report for a seminar. In this video I explain how the VSG surgery has changed my life."
---
Testimonies